1926
Osceola Store Team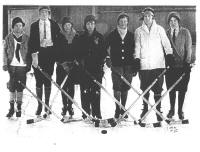 L-R: Edna Huhta, Edna Luoma, Martha Tami, Martha Torrika, Edna Heikkala, Jennie Birk, Lena Defillippi.

Text from Houghton County Historical Society:
"The First Public Exhibition"
When the Osceola Women's ice hockey team of 1926 showed off their prowess, it was Mrs. John Birk who Captained the Store group to Challenge other copper mining locations in the Keweenaw Peninsula. Although women's was popular in Canada at the time, local promoters felt the speed and skill of the female hockey players could take off and become a popular sport. With two women's hockey teams in Osceola at the time, the Store team went on to defeat a strong Calumet team in a fast and exciting game witnessed by nearly 300 fans."
1926
Osceola #2 Team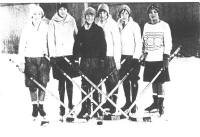 L-R: Angeline Sachen, M. Lamminen, Annie Ninko, Mary Ninko, Martha Torrikka, Martha Williams.
Coached by June? Birk.
According to a news clip, the Osceola team, coached by June? Birk, beat the Calumet Ladies 4-1.
1926
Calumet Team
need picture!
Players included:
Miss Jewel, Kranz, Burkman, Goulet, Ricca, Sturos.
Teams in this 1926 Women's League included:
Calumet, 2 teams from Osceola, Tamarack and Allouez.
Please contact webmaster if you have any pictures or info about local Women's teams!